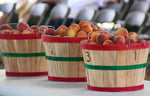 We are in full swing with the Harvester peach variety!
There will be plenty of peaches for sale all summer. Whether you're wanting a half bushel box, or just a basket of several peaches, we've got them. Our white-fleshed variety, Southern Pearl, will be available through this weekend.
We pick every day, except on Sundays, and have flats of very ripe peaches and 1/2 bushels of seconds available. These are good to reserve, as we don't have an abundance of fruit.
Upcoming varieties include: Red Globe, Fire Prince & Bounty
Local produce is coming in the store, too. Blackberries are on their way out, but pickling cucumbers are starting up. We've got plums, some apricots, squashes, potatoes and onions from here. Cantaloupe and watermelon and tomatoes from South Texas are available as well. 
The Jamboree will be fun with a baking/preserve contest, fun parade, two rodeos and concerts following! Come out and join in the peachy fun!
Photo used from: Stonewall Peach JAMboree Facebook page.