1-830-644-2604

1-800-694-2772

15194 US Hwy 290 East

Stonewall, TX 78671
Peach Updates
Fresh peaches are in!
Variety: Red Globe (freestone)
The thing with farming is you can never guess what the outcome will be until it comes close to time of harvest. Currently our harvest production is only about a 3-5% crop. Sespite the small crop, the size of the peaches themselves are very large and of course, TASTY!
Why? This is due to the trees being stressed for a couple of reasons. The 2022 drought was very hard on the orchard, with it being the worst drought our family has experienced in about 50 years of raising peaches. This winter was mild and very sporadic. Our trees need cold weather during their dormant season to help them produce peaches.
Traveling for peaches:
The Hill Country fruit growers all are in the same boat of having small crops. With this small of a crop, you will find days where we, along with the other peach growers, sell out of the fresh peaches from our farms. It is best to come on the days we pick. You can find this information on our Facebook page or by giving us a call.
830-644-2604
The Duecker Family
 Burg's Corner is family owned and operated by the Duecker family. They have been in the peach business since the 1950's  and strive to produce the best peaches possible, brought from their farm to your family's table.
The Fruit
Our family's 75 acre Hill Country orchard is located in Stonewall, TX. Along with peaches, we also harvest apricots, plums, figs, apples, pears, & pecans.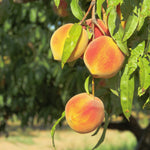 As we move into March, our trees begin to move out of their dormant stage. During the months of December, January, & February peach trees...
Here's to 2020... As the New Year approaches, we reflect over this past year. 2020 was certainly one for the record books, crazy, unpredictable, but...
Stopped here for the first time today to buy some peaches. Not only was it a clean & friendly enviroment, but they had very interesting items & amazing local produce!! My girlfriend & I shared a double scoop of vanilla ice cream topped with peaches (one of the best things I have ever eaten!!) I will be stopping here again...

- Rikki G.

Burg's Corner has been an annual outing for our family for years... never have we been disapointed with one single peach purchased!

- Lynda Mills

It's an amazing place to go for peaches. The staff are awesome and super friendly. The selections are great & you can't beat the peach ice cream with the fresh peaches on top.

- Nancy S. Henson