1-830-644-2604

1-800-694-2772

15194 US Hwy 290 East

Stonewall, TX 78671

Open 5 days a week

Thursdays - Mondays
Peach Updates
The 2023 peach season is over until next summer.
Adequate chill hours (45 & below) and moisture this winter would help us to produce a great crop in 2024.
The Duecker Family
 Burg's Corner is family owned and operated by the Duecker family. They have been in the peach business since the 1950's  and strive to produce the best peaches possible, brought from their farm to your family's table.
The Fruit
Our family's 75 acre Hill Country orchard is located in Stonewall, TX. Along with peaches, we also harvest apricots, plums, figs, apples, pears, & pecans.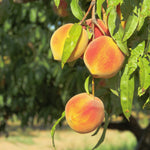 As we move into March, our trees begin to move out of their dormant stage. During the months of December, January, & February peach trees...
Here's to 2020... As the New Year approaches, we reflect over this past year. 2020 was certainly one for the record books, crazy, unpredictable, but...
Stopped here for the first time today to buy some peaches. Not only was it a clean & friendly enviroment, but they had very interesting items & amazing local produce!! My girlfriend & I shared a double scoop of vanilla ice cream topped with peaches (one of the best things I have ever eaten!!) I will be stopping here again...

- Rikki G.

Burg's Corner has been an annual outing for our family for years... never have we been disapointed with one single peach purchased!

- Lynda Mills

It's an amazing place to go for peaches. The staff are awesome and super friendly. The selections are great & you can't beat the peach ice cream with the fresh peaches on top.

- Nancy S. Henson