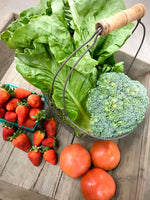 This season is definitely not starting off normal but we have emprovised! 
Since the doors to our store front are closed with the recent epidemic and have heard so many of your request for fresh produce, we are now offering curbside pick up every Tuesday afternoon 12pm - 2pm.
To guarantee availability, we are asking for everyone to place pre-orders by the Saturday before. To place your pre-order you can send us a Facebook message on our page, send a text message to Kristen at (830)-998-4499, or leave a voicemail on our landline (830)-644-2604 with what you would like.
The produce will vary from time to time. This week we will offer: Poteet strawberries (organic), tomatoes, green beans (organic), broccoli (organic), sweet potatoes, & romaine lettuce (organic). For weekly update produce avilability, please refer to our "Fresh Produce" tab on our home page of our website. Produce pricing will also be reflected on that page.
We will accept cash or credit card. If you choose to pay in advance please call us with the credit card number once you arrive to the store for pick up.
once things settle down we will plan to open our store front doors up again. Until then, we hope that everyone stays healthy and well!